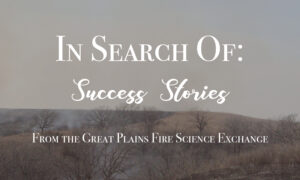 The Fire Science Exchanges, including the Great Plains Fire Science Exchange, are being asked to provide evidence of their impact, and/or the impact of Joint Fire Science Program-funded science through "success stories."
Funding for the JFSP, the organization that provides the grants under which the Fire Science Exchanges operate, has been cut by over half in the proposed new budget. 
While there seems to be a general consensus that the Fire Science Exchanges are doing good and important work, it is useful to have written examples when approaching government agencies for funding. 
Please take a few minutes to relate how Great Plains Fire Science Exchange, the Joint Fire Science Exchange, or any other Fire Science Exchange has made a difference. 
 
Your participation would be greatly appreciated. 
Please e-mail your story to Hannah Johlman
as soon as possible at [email protected].
Read More